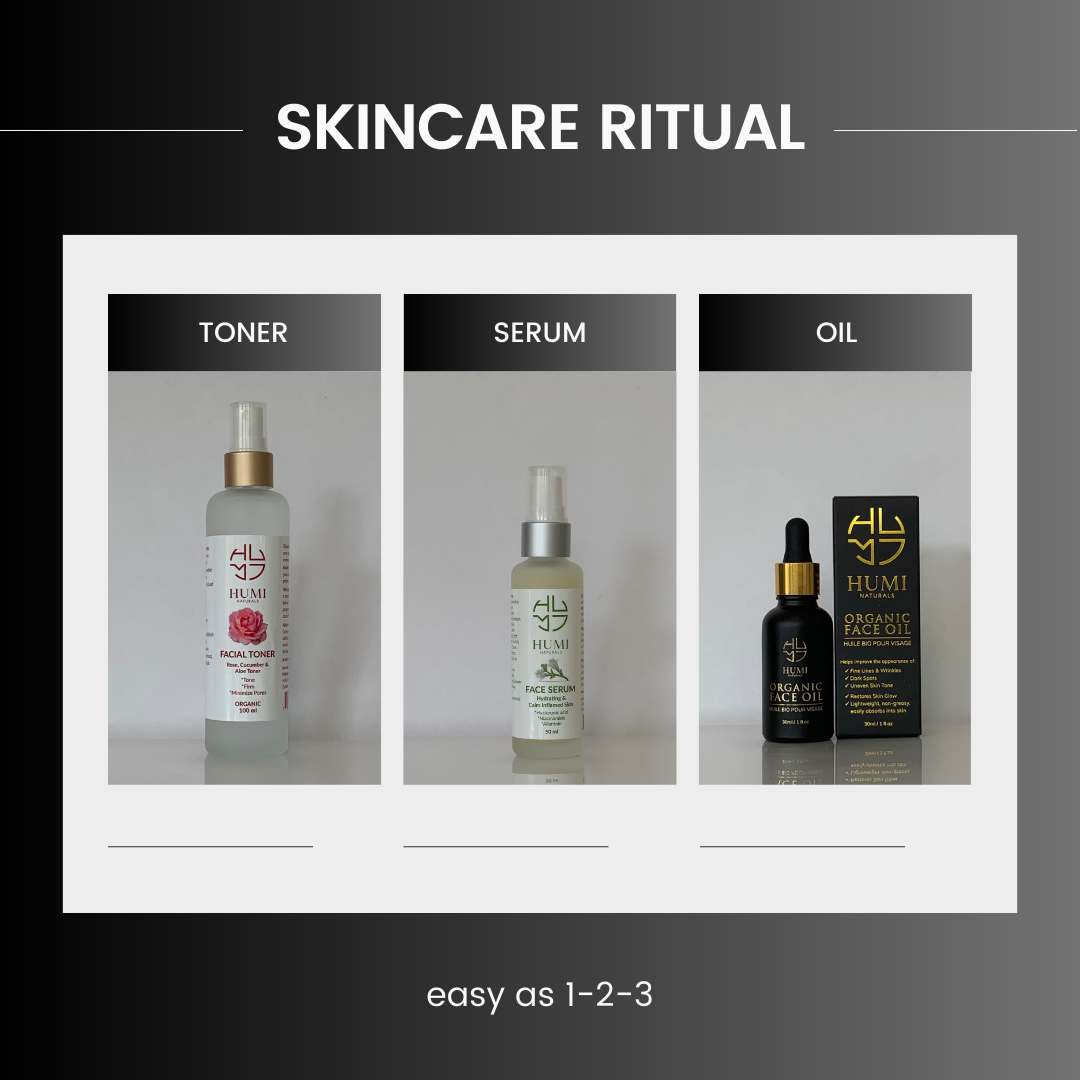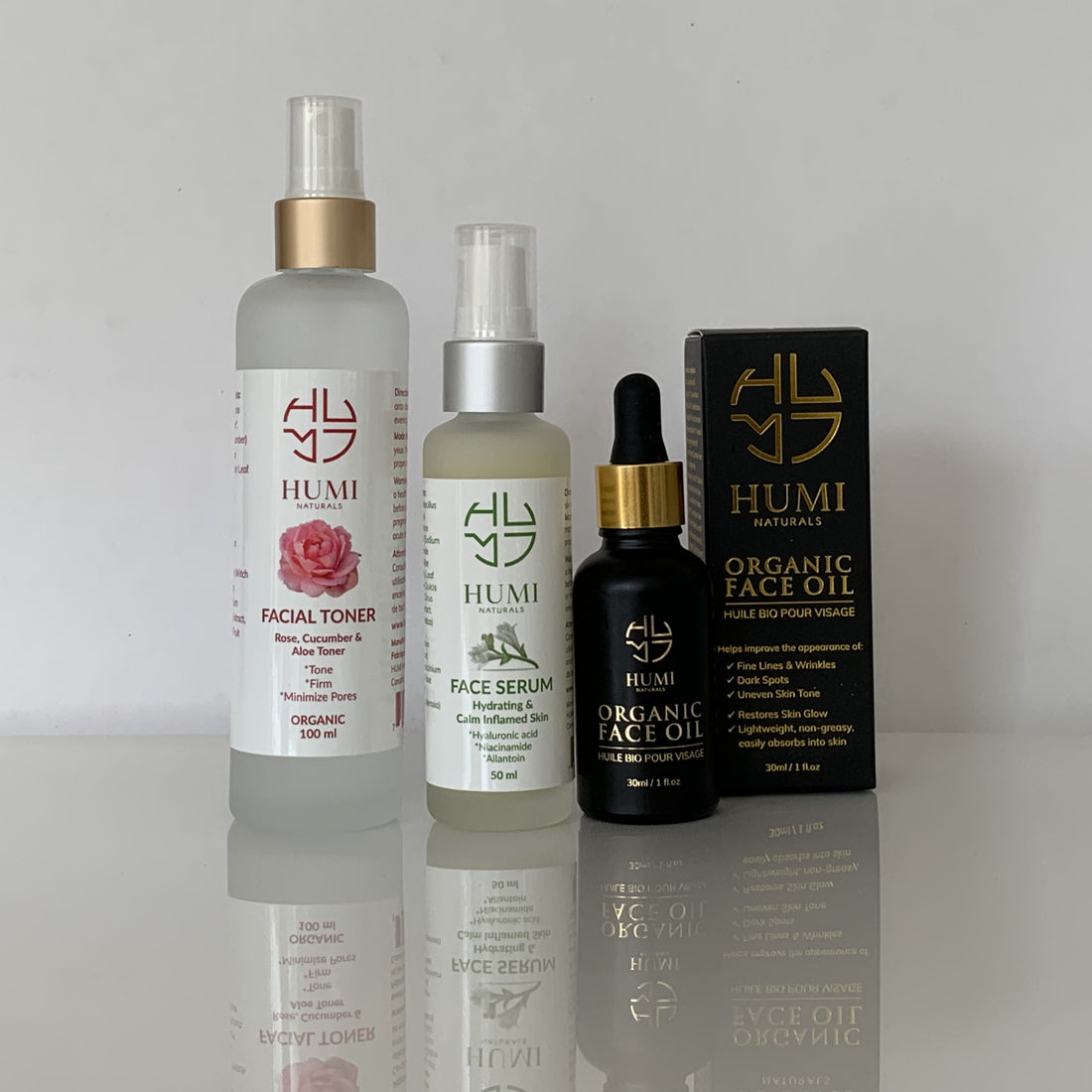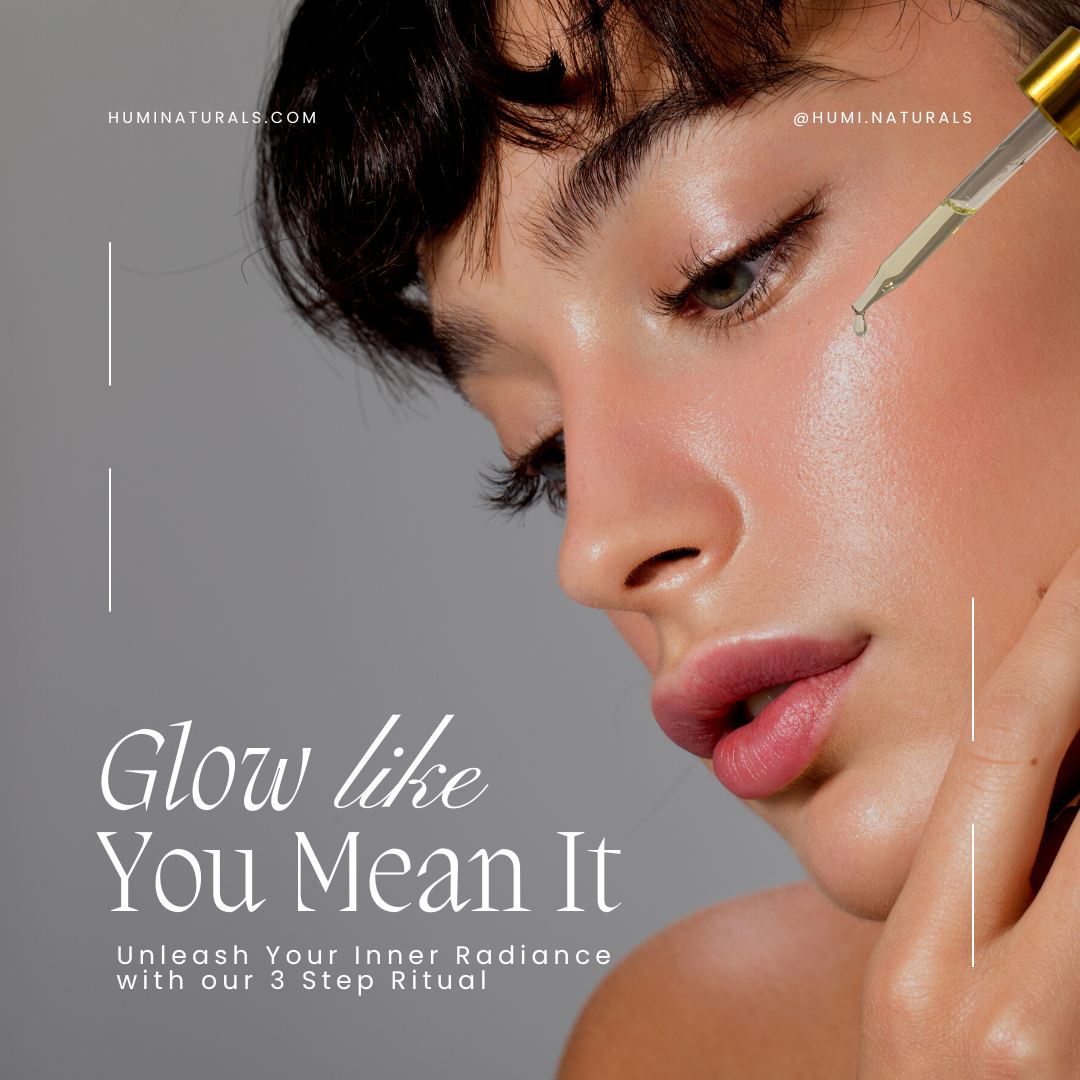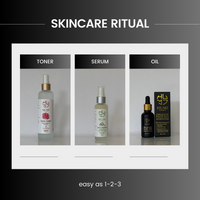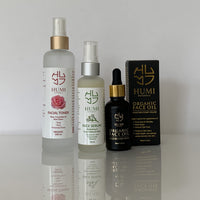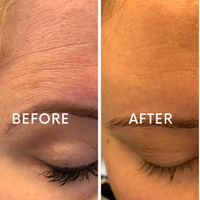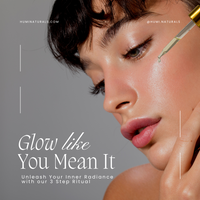 HUMI Naturals Daily Skincare Ritual
Embark on a journey to true skin wellness with a little help from nature. This daily skincare regime marries nature's gifts with scientific ingenuity to soothe, hydrate, and nourish the skin. It's a precious skincare ritual for healthy, soft, and glowing skin.
Step 1:
Begin with our Face Toner, a gentle spray infused with a hydrating and skin-soothing trio of Rose, Cucumber, and Aloe. Just a light spritz balances the skin, tightens your pores, and leaves skin moisturized and ready to absorb nourishment. The fresh, delicately floral aroma of the toner leaves you and your skin feeling refreshed.
Step 2:
Next, protect, pamper, and deeply nourish your skin with our Hydrating and Calming Face Serum. The potent combination of actives like Hyaluronic Acid, Niacinamide, and Allantoin quenches parched skin, strengthens the skin's barrier, balances sebum production, and soothes irritation. It penetrates the skin and helps repair the skin, revealing a plumper, dewy complexion that feels deeply soothed and protected.
Step 3:
The power-packed last step of the skincare ritual, our organic Face Oil, is a luxurious skin elixir that brings rare and remarkably potent botanical extracts like Blue Water Lily Absolute for its potent anti-aging effects, Immortelle Essential Oil to stimulate cell regeneration, and Elderberry Seed Oil for its powerful antioxidant properties. Together, this ultra-moisturizing and protective oil blend rejuvenates and repairs the skin for noticeably youthful, illuminated skin.
Elderberry Seed Oil: 
Our luxurious organically crafted Elderberry Seed Oil, is high in anti-oxidants and makes your skin smooth while promoting good elasticity. Elderberry seed oil has a decongesting effect on the skin making it suitable for inflamed acne prone skin. It has a smooth silky feel that leaves skin soft and supple and helps prevent water loss through the skin. Absorbs quickly and is deeply penetrating. It nourishes thoroughly, softening dry, rough skin.
Elderberry seed oil is used for skin regeneration and smoothes out wrinkles for more delicate appearance and reduces inflammation, pigmentation and appearance of blemishes such as dark spots or fine lines by stimulating a healthy collagen production to counteract signs of ageing and damage from free radicals.   
Goji Berry Seed Oil
Our organically crafted Goji Berry Seed Oil is widely considered a "miracle oil" providing the skin much-needed support by assisting it in protecting itself from the stresses of everyday life, all the while keeping it youthful and radiant.
Goji Berry Seed Oil smoothes wrinkles, enhance skin elasticity and evens out skin tone leaving the skin feeling silky soft. Exceptionally high in essential fatty acids, most especially Omega- 6 Linoleic Acid, this exquisite oil protects and repairs the skin by stimulating intracellular oxygenation, helping to restore the vital balance of water and fats in the hydrolipidic film of the skin.
Goji Seed Oi is abundant in Vitamin E, which holds the ability to neutralize fat-soluble radicals and helps protect cell membranes from lipid oxidation, maintaining skin elasticity and firmness. Penetrating deep into the skin, Goji Seed Oil stimulates blood circulation and raises skin metabolism, thereby accelerating cell turnover, helping to even out skin tone, and attenuates melanin deposits such as age spots and freckles.
Pomegranate Seed Oil:
Pomegranate Kernel Oil is a sought-after and luxurious commodity, and is among one of the most desired oils in skin care cosmetics.
Pomegranate Seed Oil is a rare source of Punicic Acid - a polyunsaturated fatty acid and the only known botanical form of Conjugated Linolenic Acid (CLnA), and is one of the most powerful plant based antioxidants known. Its high resistance to oxidation is another reason why it is such a desirable component in the personal care and cosmetic industry.
Blue Lotus Essential Oil:
Blue Lotus, also known as Egyptian Blue Water Lily has many blissful benefits widely celebrated throughout Egyptian culture, art, and ceremonies.
Known as the most hypnotic of the lotuses, Blue Water Lily continues to be a treasured ethereal spirit tonic to this day. Blue Lotus Absolute Oil is a wonderful meditation aid, opening Chakras (specifically the Third Eye) and dispelling negative emotions and thoughts, aiding one on their spiritual path. As an authentic aphrodisiac, Blue Lotus is euphorically relaxing and used widely for promotion of sexual desire, ecstasy, and euphoria.
Blue Water Lily Absolute is a beautiful choice when looking to support overall skin health and assist in helping with wound management and support for healing scars.
Immortelle or Everlasting Essential Oil:
Our organically crafted Helichrysum Essential Oil, also commonly known as Immortelle Essential Oil and Everlasting Oil, is a stunningly beautiful therapeutic essential oil.
Helichrysum Essential Oil is also known in phytotherapy for its antioxidant, antibacterial and antifungal properties. This essential oil is deeply skin nourishing and rejuvenating, possibly helping with cell rejuvenation and localized tissue healing.
Honeysuckle Essential Oil:
Honeysuckle Absolute Oil is believed to possess a number of potent anti-oxidant properties that help fight against free radicals, effective in delaying the process of ageing. Its anti-inflammatory and anti-oxidant and anti-microbial qualities properties make it a wonderful oil to help prevent bacterial infections.
Honeysuckle Absolute Oil can soothe inflamed skin, eliminate pigmentation, and exfoliate your pores to reduce symptoms of acne. Furthermore, it can handle symptoms of eczema, psoriasis and other unsightly inflammatory skin conditions.
my skin is back
I love this set. my pores got really big after I turned 40 and I was looking for something that would shrink them a little bit and this definitely did the job... now that I have my skin under control I feel like I can walk around without makeup and have my natural beauty back
Cooling, refreshing
I went on a binge and bought everything humi bc they had good reviews. I was not dissapointed. This product smells good and felt good on my face. It wasnt harsh but calming. Just what my face needed!
LOVE LOVE LOVE
This stuff works! First off all there was no purging period, which my acne prone skin is happy about. It also doesn't sting and smells great. Within a week of using this set I stopped having breakouts. My dark spots are slowly getting lighter and my skin is starting to glow. I have nothing but good things to say. I really hope they never stop making this.
love it
perfect regimen for my skin
so worth it
Great product, delicate and efficient. Within a month it really transformed my skin, making me get the glass skin I wanted. I highly recommend it, especially if used together