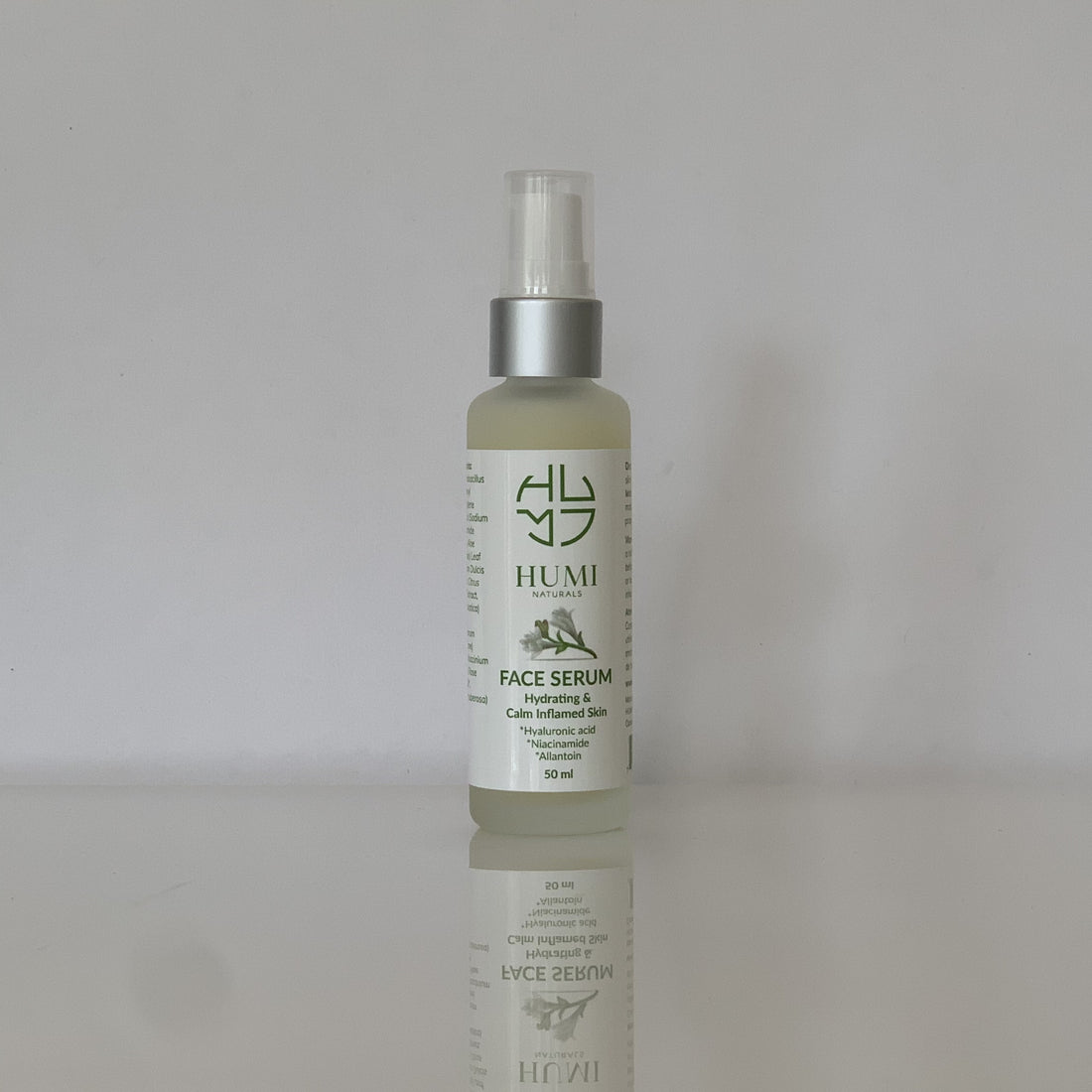 Introducing the game-changing skincare you've been searching for. Our face serum is the ultimate solution for hydrated, even-toned, and youthful-looking skin!
Our all-natural and organic serum is not only super hydrating, but it also reduces wrinkles and has a calming effect on the skin. Say goodbye to toxic and harmful ingredients, and hello to healthy, radiant skin!
We have carefully selected the most effective natural ingredients to create a formula that will revolutionize your skincare routine.
Here's what you can expect from our serum:
Anti-aging:

MSM, Ursolic Acid, and Fruit Extract will give your skin a youthful and radiant glow.

Calming:

Aloe Vera (Aloe Barbadensis) Leaf Juice, Gotu Kola Extract, Tuberose Absolute Essential Oil, and Bulgarian Damask Rose Absolute work together to calm and soothe your skin.

Hydrating:

Hyaluronic Acid and Glycerin provide deep and long-lasting moisture to your skin.

Even skin tone:

Fruit Extracts even out skin tone and improves skin texture.

No toxic or harmful ingredients:

Our serum is made with only natural and organic ingredients that are safe and healthy for your skin.
With our carefully crafted blend of natural ingredients, you can trust that you're giving your skin the very best. Get ready to feel confident and beautiful in your own skin!
Vaccinium Myrtillus Fruit Extract
Discover the power of Vaccinium Myrtillus Fruit Extract, derived from bilberry, a potent source of antioxidant anthocyanins.
This extract boosts the skin's defense against environmental stressors, preventing wrinkles, dark spots and other signs of aging. It also offers calming properties for sensitized skin. With tannins for astringency, bilberry products tighten and tone the skin while balancing oiliness. Packed with antioxidants, bilberry supports collagen production, preventing premature aging.
Experience the benefits of this superior skin-conditioning ingredient, promoting vitality and maintaining elasticity. Let bilberry extract revitalize your skin and protect against oxidative stress for a youthful glow.
Saccharum Officinarum (Sugar Cane) Extract
Unveil the power of Saccharum Officinarum (Sugar Cane) Extract, a moisturizing and skin-conditioning ingredient. Derived from sugar cane, it is a natural source of glycolic acid, an alpha hydroxy acid that softens and smoothes the skin.
This extract enhances collagen and hyaluronic acid synthesis, reducing the appearance of wrinkles and fine lines. With its exfoliating properties, sugar cane extract promotes cell turnover for a radiant complexion. Experience the benefits of this tropical treasure, keeping your skin hydrated, vibrant, and rejuvenated. Say goodbye to dullness and hello to a fresh, youthful glow.
Citrus Aurantium Dulcis (Orange) Fruit Extract
Citrus Aurantium Dulcis Fruit Extract is derived from the sweet orange fruit for radiant and revitalized skin. Packed with vitamin C and antioxidants, it protects against free radicals and stimulates collagen production. Experience gentle exfoliation and a smoother complexion with its natural alpha hydroxy acids.
This extract also clears acne, lightens scars, and imparts a natural glow. With its diverse range of beneficial compounds, including flavonoids and moisturizing sugars, it's a versatile ingredient for skincare. Embrace the beauty of nature with this complex and nourishing extract.
Citrus Limon (Lemon) Fruit Extract
Experience the invigorating power of Citrus Limon (Lemon) Fruit Extract in your skincare routine - what we like to call the "Zesty Beauty Boost." This botanical ingredient, derived from the lemon tree, is packed with antioxidants and conditioning properties.
It cleanses, controls oil, and unclogs pores while providing a dose of Vitamin C for improved skin tone and reduced oxidative stress. Unveil the natural radiance of your skin with this refreshing citrus fruit. Fight acne, reduce wrinkles, and enjoy the benefits of a natural astringent. Embrace the zesty goodness of lemon for a healthy and vibrant complexion.
Return customer
started off with Face OIL, and I love that so I got the serum! Together they are the best.
smells so exotic
I mix with the FACE OIL and IT'S PERFECT.
greatttt
I've only used this for about 3 weeks and I can already see my lines are smoothing. It added some much needed hydration.
UM!!! YES PLEASE
This smells so incredibel and makes my skin look instantly smoother