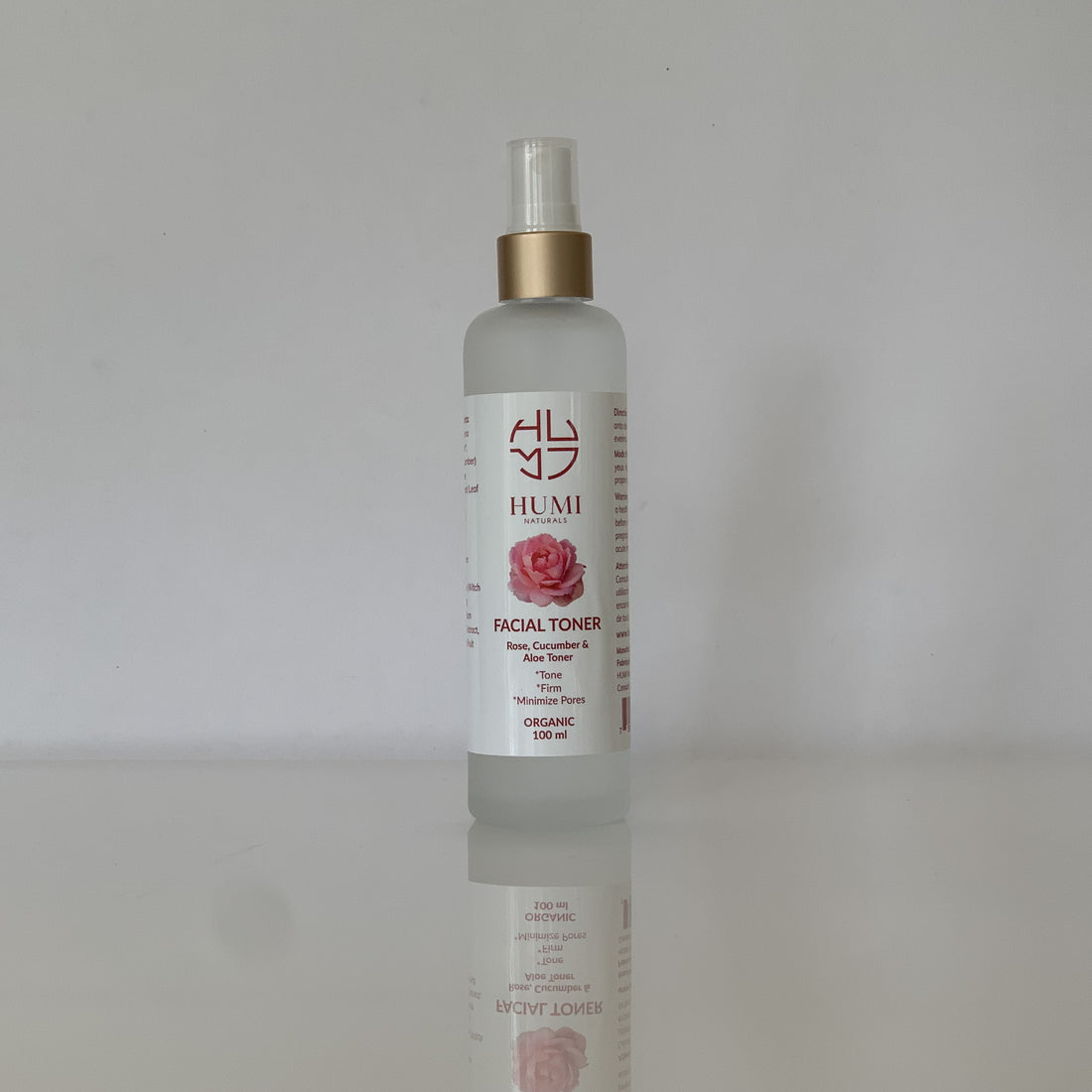 Refuse to settle for anything less than extraordinary when it comes to your skincare. Elevate your self-care routine with our natural face toner and give your skin the pampering it deserves. Embrace the pinnacle of beauty and embark on a voyage that will leave you in awe of your own luminosity.
Introducing our organic and natural face toner that will transform your skin care routine and give you the radiant, glowing skin you deserve! Crafted with utmost care and dedication to bring you the finest in skincare, our natural toner is made with the finest organic and natural ingredients, meticulously chosen to nourish and rejuvenate your skin. You'll feel refreshed and renewed, ready to take on whatever the day brings with confidence and grace.
Here's why you'll love our face toner
Gentle & Effective: Our natural face toner is suitable for all skin types, including sensitive skin. It won't dry out your skin or leave it feeling tight and uncomfortable.
Potent Ingredients: Our toner is enriched with powerful natural ingredients that work together to balance, hydrate, and nourish your skin. From rose hydrosol to cucumber hydrosol and aloe vera, we've included only the best organic ingredients for your skin.
Easy to Use: Our face toner fits seamlessly into your daily routine. Simply close your eyes and spray on your face after cleansing, and feel the refreshing, invigorating sensation as it absorbs into your skin. Follow with our Organic Face Oil or our Face Serum.
Ethical Beauty: Our toner is vegan and cruelty-free, so you can feel good about using it and supporting ethical, sustainable beauty.
So why should you choose our face toner over others on the market?
Because we care about your skin and we believe in the power of natural ingredients to transform it. Our toner is not just a product; it's a statement of our commitment to healthy, radiant skin. Try our face toner for yourself and experience the difference it can make in your skin care routine. With regular use, you'll notice smoother, brighter, more youthful-looking skin that glows.
Rosa Damascene (Rose) Distillate Water Organic
A true sensory delight. Steam distilled from the pink petals of Bulgarian Rosa damascena, this exquisite rosewater possesses an intoxicatingly sweet, rosy aroma that uplifts your senses and invokes sensuality.
Renowned for its skincare benefits and endocrine-balancing properties, Rose Hydrosol is a fantastic toner for all skin types. It adds and retains moisture, heals dry and aging skin, and even cools sunburn. Emotionally, it promotes balance and well-being, healing the heart during despair and easing shock and grief. Our pure Organic Hydrosols are 100% natural and concentrated, offering unmatched quality and safety.
Cucumis Sativus (Cucumber) Distillate Water Organic
Distilled from fresh Cucumis sativus fruits, this hydrosol captures the unmistakable aroma of freshly cut cucumbers—light, rejuvenating, and cooling.
Cucumber Hydrosol is skin softening and toning to your skin. It soothes, and moisturizes, making it an excellent makeup remover and after-shower mist. Its cooling properties provide relief and reduce tightness and pain from burns.
Our 100% organic, pure and preservative-free hydrosols are of superior quality and more concentrated than others in the market. Crafted with care, our hydrosols capture the cellular water, imbued with minerals and botanical goodness, imparting water-soluble aromatic and therapeutic properties. Safe for all, they retain gentle aromatic compounds for a delightful experience.
Aloe Barbadensis (Aloe Vera) Leaf Distillate Water Organic
Experience the healing power of our organic Aloe Vera Hydrosol. Steam distilled from sun-ripened Aloe barbadensis plants, it tightens pores, soothes, and replenishes moisture in the skin. Rich in polysaccharides, it's what gives it its healing and anti-inflammatory properties and makes it ideal for sensitive and mature skin types.
Aloe Vera is prized for soothing burns, blisters, and other general skin irritations as well as reducing inflammation and inhibiting fungal activity.
With Aloe Vera Hydrosol, indulge in skin-nourishing blends and experience its soothing properties in our natural face toner.
Vaccinium Myrtillus Fruit Extract
Discover the power of Vaccinium Myrtillus Fruit Extract, derived from bilberry, a potent source of antioxidant anthocyanins.
This extract boosts the skin's defense against environmental stressors, preventing wrinkles, dark spots and other signs of aging. It also offers calming properties for sensitized skin. With tannins for astringency, bilberry products tighten and tone the skin while balancing oiliness. Packed with antioxidants, bilberry supports collagen production, preventing premature aging.
Experience the benefits of this superior skin-conditioning ingredient, promoting vitality and maintaining elasticity. Let bilberry extract revitalize your skin and protect against oxidative stress for a youthful glow.
Saccharum Officinarum (Sugar Cane) Extract
Unveil the power of Saccharum Officinarum (Sugar Cane) Extract, a moisturizing and skin-conditioning ingredient. Derived from sugar cane, it is a natural source of glycolic acid, an alpha hydroxy acid that softens and smoothes the skin.
This extract enhances collagen and hyaluronic acid synthesis, reducing the appearance of wrinkles and fine lines. With its exfoliating properties, sugar cane extract promotes cell turnover for a radiant complexion. Experience the benefits of this tropical treasure, keeping your skin hydrated, vibrant, and rejuvenated. Say goodbye to dullness and hello to a fresh, youthful glow.
Hamamelis Virginiana (Witch Hazel) Bark/Leaf/Twig Extract
Derived from the Hamamelis virginiana shrub, this powerful ingredient has been used for generations to heal and soothe skin. With its natural astringent properties, Witch Hazel can minimize pores, depuff under-eye bags, and reduce skin irritation.
It also removes excess oil, soothes inflammation, and provides antioxidant protection against environmental stressors. Unleash the power of Witch Hazel Extract and experience the transformative benefits it brings to your skin.
Citrus Aurantium Dulcis (Orange) Fruit Extract
Citrus Aurantium Dulcis Fruit Extract is derived from the sweet orange fruit for radiant and revitalized skin. Packed with vitamin C and antioxidants, it protects against free radicals and stimulates collagen production. Experience gentle exfoliation and a smoother complexion with its natural alpha hydroxy acids.
This extract also clears acne, lightens scars, and imparts a natural glow. With its diverse range of beneficial compounds, including flavonoids and moisturizing sugars, it's a versatile ingredient for skincare. Embrace the beauty of nature with this complex and nourishing extract.
Citrus Limon (Lemon) Fruit Extract
Experience the invigorating power of Citrus Limon (Lemon) Fruit Extract in your skincare routine - what we like to call the "Zesty Beauty Boost." This botanical ingredient, derived from the lemon tree, is packed with antioxidants and conditioning properties.
It cleanses, controls oil, and unclogs pores while providing a dose of Vitamin C for improved skin tone and reduced oxidative stress. Unveil the natural radiance of your skin with this refreshing citrus fruit. Fight acne, reduce wrinkles, and enjoy the benefits of a natural astringent. Embrace the zesty goodness of lemon for a healthy and vibrant complexion.
Great for my skin
This product changed the game for me . My pores look smaller. It makes my skin feel clean without drying it out. This product has done more than just help with appearance of pores, it has made me feel less oily, helped with my acne, and helped with the inflammation of my acne scars!
Perfect for sensitive skin
It helped get rid of my stubborn blackheads and has made my skin so smooth. I have sensitive skin and its great.
BUY IT!
I love everything about this toner
Finally!
For the first time ever, something managed to keep my skin matte ALL DAY LONG. I have tried everything, matte makeup, matte primers, various pore control serums from a ton of brands, and here it finally is! So very satisfied!
Great toner and smells good too