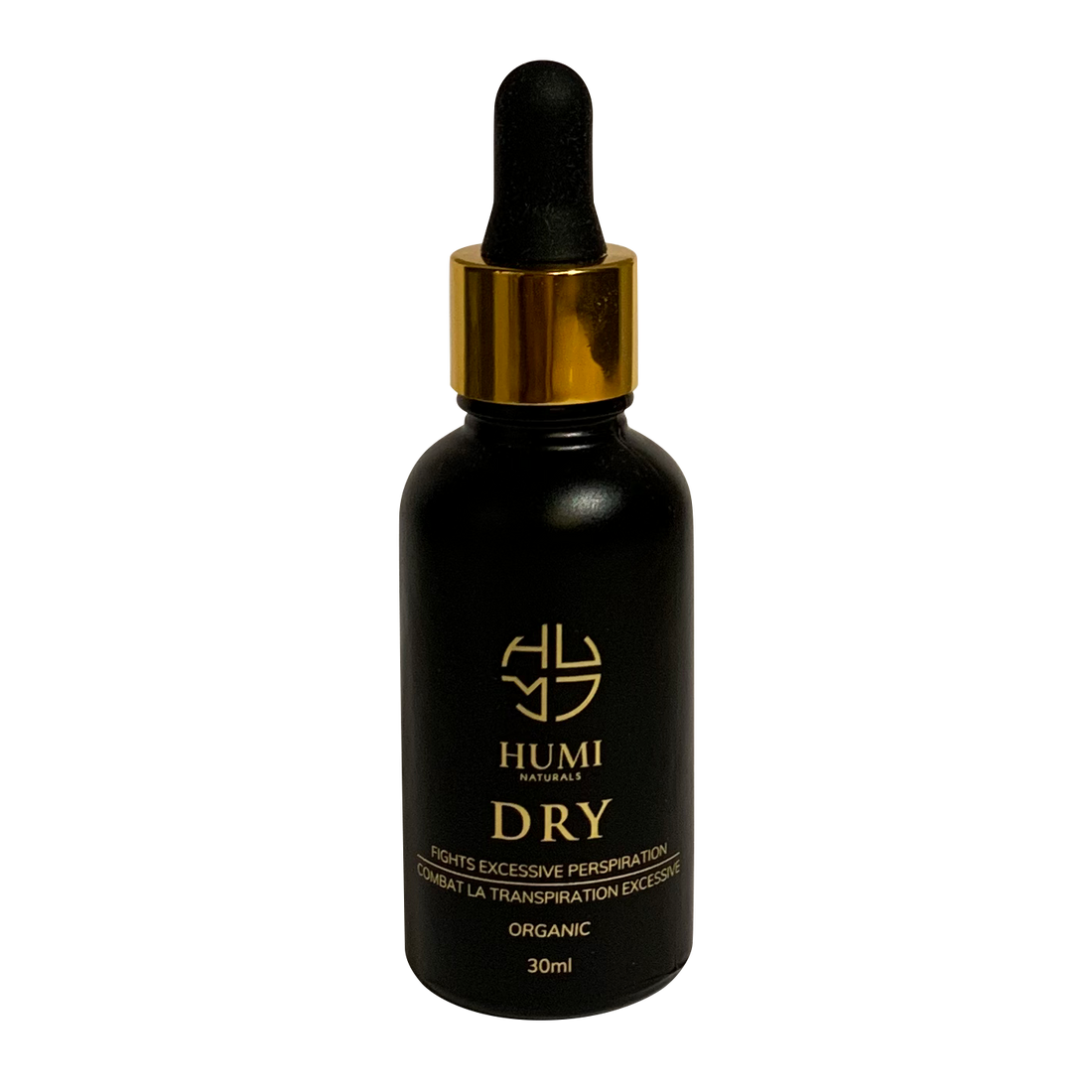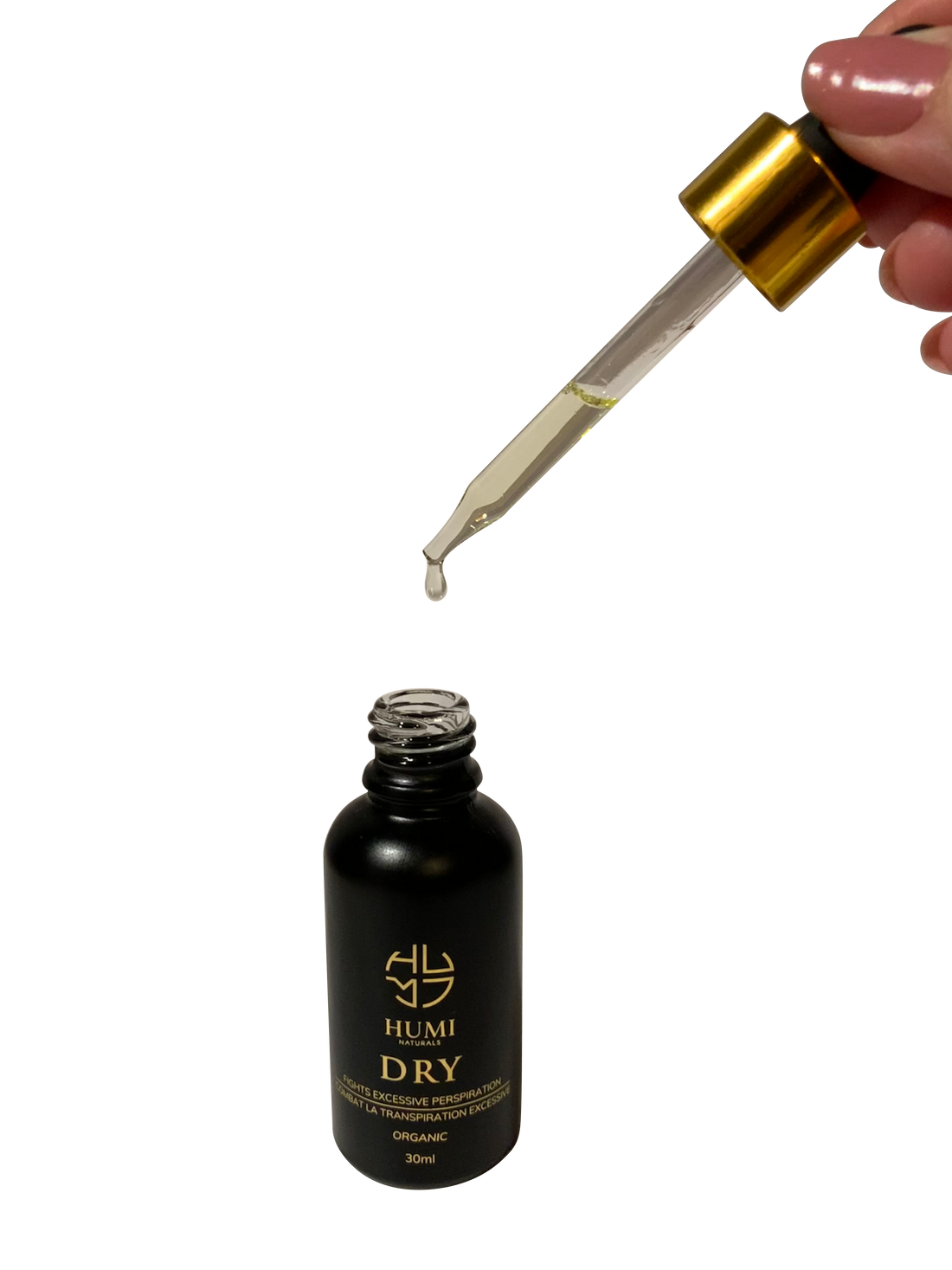 Reduce Sweating by 30 to 80%!!!
Are you an excessive sweater and stained all of your shirts? Always embarrassed about smelly wet underarms?
About 5% of the population experience embarrassing hyperhidrosis aka excessive sweating.
HUMI Naturals is here to help!
We formulated HUMI DRY to REDUCES excessive sweating. It's 99% Organic with no harmful chemicals.
Just apply a few drops twice a day to clean, dry area and let mother nature work it's magic. 
Sacha Inchi Oil
Our organically crafted Sacha Inchi Oil is cold pressed. Native women in the Peruvian Amazon rainforest have used this miracle oil for centuries in cosmetic applications as a skin humectant, protectant, emollient as well as in anti-aging applications as it restores the lipid layer in human skin. Because of its high concentration of omega-3 Alpha-Linolenic Acid, Sacha Inchi Oil is an excellent choice for use in regenerative cosmetics, anti-aging and hair care products. The phytosterols BetaSitosterol and Stigmasterol have a regenerative effect and reduce Trans-Epidermal Water Loss (TEWL) making it especially well suited for use in regenerative, moisturising products for sensitive skin.
Being a light and non-comedogenic oil that exhibits anti-microbial properties, Sacha Inchi Seed Oil is reputed to calm acne-prone skin and to reduce other blemishes as well as scarring. Sacha Inchi Oil is widely used in high-end skincare formulations for its ability to clean, moisturize, and eliminate bacteria by deeply penetrating skin pores without clogging them. Its astringent and anti-inflammatory properties are known to facilitate the healing of wounds and burns by tightening the skin. Sacha Inchi Oil is also known for its antioxidant activity, which supports skin health, repairs damage caused by pollutants, and delays the appearance of fine lines, wrinkles, and discoloration.
Lemongrass Essential Oil
Our organically crafted Lemongrass Essential Oil is steam distilled for a delightfully bold, lemony aroma; and exceptional therapeutic properties.
In addition to helping reduce unwanted bacteria, microbes, or fungus, Lemongrass Essential Oil is also known to help manage minor pain and inflammation, work to ease situational depression, and help support healthy digestion. Within skin care applications, Lemongrass Essential Oil is used for its astringent properties. Its Limonene content can help to dissolve excess oil. It is also purifying and toning to the skin, and is frequently used in skin care products for these benefits.
Emotionally and energetically, Lemongrass Essential Oil can invite comfort during difficult emotional transitions, and encourage motivation during times of anxiety, stress and depression. The stimulating and refreshing aroma also uplifts and relaxes, assisting in both reducing fatigue and energizing the mind.
My son loves the smell but isnt helping with the sweating!
Still Undecided
I've been using it twice a day as recommended but I still sweat like crazy.
huge difference for me
I can see a huge difference for me. ive been using it underarms only. here is a picture of me after vacuuming for 25 minutes. normally my pits would be fully drenched. I'll start using the oil under my boobs too. :) sorry, i'm not good with photoshop. lol
Miracle oil
This stuff is a miracle for hyperhidrosis sufferers. I used to sweat buckets during ALL my shifts at work and always was self conscious about the problem but today was different. My sweat from my back, chest and groin were reduced drastically (on a very hot day). For the first time since puperty, I finally felt like a normal human being. I can't praise this product enough for the way it has changed my life. If you're still doubtful about the efficacy of the product I'm here to assure you NOT to be. This stuff really works. Go for it, you got everything to gain and nothing to lose...except for excessive sweating. ;)